Bus Transfers To and From Frankfurt Airport



Buses to and from Frankfurt Airport with Bus Routes and Times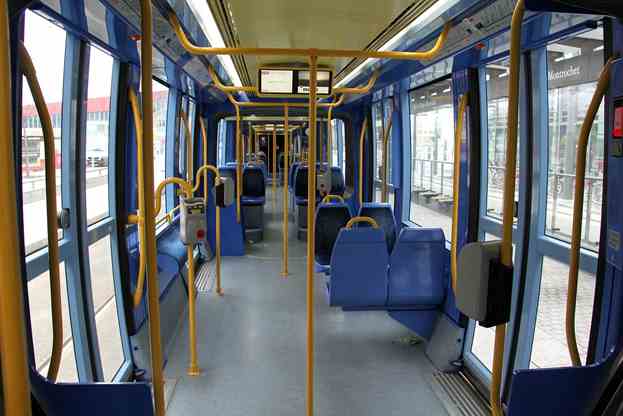 Travelling between the two terminals is easy thanks to a fleet of yellow shuttle buses that run every 10 minutes and stop in front of the terminals and at coach parking area P36, where long-distances coaches are parked. The free shuttles run from 05.30 and 23.30 every day and take ca 7 to 10 minutes to arrive at their destination.
Passengers arriving at Frankfurt Airport should take the linking corridors to the long-distance and regional train station to get to the bus station. From the bus station they will be able to find onward travel to the city of Frankfurt, just 12 km away, and to other parts of the Hesse and Rheinland-Palatinate regions. Lufthansa Airport Buses also connect Frankfurt Airport with the city of Frankfurt and other German cities.
Main Bus Stops
At Terminal 1 buses stop just in front of the Arrivals Hall, while at Terminal 2 they stop outside Level 2 facing the Arrivals and Departure Halls.
Welcome Center
Frankfurt Airport's 'Welcome Center' offers advice to passengers arriving or picking up from Frankfurt am Main Airport. The 'Welcome Center' offers assistance with onward travel, tourist accommodation and things like the Frankfurt and RheinMain Cards, which provide cardholders with discounted visits to museums, exhibitions, even restaurants and shopping.
Frankfurt Airport's 'Welcome Center' is located at Terminal 1, Arrivals Hall B. It is open daily from 06.00 to 22.00, Tel +49 180 6372 4636, email info@fraport.de. At Terminal 2 it's possible to book hotel accommodation, city tours and similar at service points located between Halls D and E. Service points are open for business 24 hours a day.
It's worth buying a Frankfurt Card, if you're planning to explore using public transport. Bus, metro (S-Bahn) and underground train travel, regional trains and travelling on trams is free with a Frankfurt Card, as long as you stick to staying within the city limits. It's also free to travel from the airport to the city and back (zones 50 and 5090). In addition, the Frankfurt Card allows cardholders up to 50% discounts on many museums, and up to 20% discounts on many public city tours, for example Hop On-Hop Off buses. Buying a Frankfurt Card for a single day for one person costs 10.50 Euros. A group card for max. 5 people costs just 22.00 euros (prices as at August 2019).
Lufthansa Express Shuttles
Lufthansa Express and Shuttle Buses from Frankfurt Airport connect passengers with the city and other main cities, for example Strasbourg, Munich or Heidelberg. To use this Lufthansa service, passengers should buy their tickets online directly at www.LH.com and check-in online or via their Smartphone at least 23 hours in advance prior to the scheduled departure of their Lufthansa Express Bus. For the return journey passengers will receive their boarding pass for the Express Bus directly after landing at a Lufthansa Check-In Machine at the airport, or via their mobile device. It can also be downloaded at the above web address. Baggage can be deposited and picked up again at the AiRail Terminal. It is only possible to board the Lufthansa Express Buses with a valid ticket bought in advance. Tickets are not sold on board the buses.
Hotel Shuttles
Many airport hotels offer their guests transfers with free shuttles. Stops for the free hotel shuttles are signposted and can be found in front of Terminal 1, Level 1, Arrivals (along the hotel bus lane P32), and at Terminal 2 in the area of Halls D and E in Arrivals (at coach parking lot P17). Among the hotels offering shuttles to/from the terminals are ACHAT Comfort Airport Frankfurt, Best Western Amedia Frankfurt Airport, Comfort Hotel Frankfurt Airport West, Element Frankfurt Airport Hotel, H + Hotel Frankfurt Airport West, H4 Hotel Frankfurt Airport Messe and Holiday Inn Express Frankfurt Airport.
Frankfurt City Buses
Buses run by Frankfurt's municipal authority are mainly bright blue. They stop at Terminal 1 (opposite Arrivals, Level 1) and at Terminal 2 (Level 2).
Line 61 runs between Frankfurt Airport and Frankfurt-Südbahnhof (Frankfurt South Train Station). Line 62 goes to Schwanheim, and Airliner buses travel to Darmstadt.
At Terminal 1 there are also services for line 24 (for Walldorf-Mörfelden-Darmstadt), line 77 which runs between Terminal 1 and Gateway Gardens, and line 73, which goes to Kelsterbach-Rüsselsheim-Bischofsheim. Line 73 also goes to Kelsterbach.
Also stopping only at Terminal 1 are services for the n81 buses that run between Frankfurt Airport and Frankfurt's Konstablerwache stop. Line 62 buses leave from stop 18 at Terminal 1 and from Hall E, Exit 8 at Terminal 2.
Line 62 buses go from Frankfurt to Schwanheim. Line 61 also leaves from Hall E, Exit 8 at Terminal 2 and from bus stop 16 at Terminal 1. It runs between the airport, the station and Frankfurt Südbahnhof.
For a full timetable and prices, please visit: Rhein-Main-Verkehrsverbund.
Which Bus services/routes have stops at Frankfurt Airport?