FRANKFURT AIRPORT (FRA) INFORMATION
Origin
Airline
Flight no.
Scheduled
Est./Actual
Status
No flight arrivals were found at Frankfurt Airport.
Destination
Airline
Flight no.
Scheduled
Est./Actual
Status
No flight departures were found at Frankfurt Airport.
Car Hire at Frankfurt Airport
UNBEATABLE VALUE CAR RENTAL
Free Amendments | Free Cancellations | No Card Fees




Fankfurt Airport Guide - All Information on Frankfurt Airport (FRA) Frankfurt Airport
Frankfurt Airport, 60547 Frankfurt am Main, Germany
phone +49 01806 372 4636
phone+49 (0) 69 690 66359 (Lost + Found)
emailinfo@fraport.de
emailinfo@fraport.de (Lost+Found)
call_end+49(0)69 690 70081 (fax)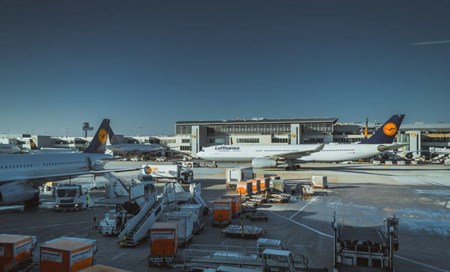 Frankfurt Airport (FRA), is very close to Frankfurt am Main, Germany. The airport is located approximately 12 km or 8 miles to the south-west of central Frankfurt. Over 306 destinations are served from Frankfurt's airport, used by ca 94 airlines who between them cover some 98 countries. Frankfurt Airport is Europe's fourth busiest airport in terms of passenger numbers and the busiest in terms of cargo movements. In the first half of 2019, Frankfurt Airport saw 33.6 million passengers pass through its Terminals 1 and 2, an increase of ca 3.0% on the same period in 2018. The summer schedule alone requires the airport to make 137 international destinations available to passengers.
On 30th June 2019 Frankfurt Airport set a new record for passengers using the two terminals in a single day. It was the start of school holidays in Hesse and Rhineland-Palatinate. A record number of 241,228 passengers used Frankfurt Airport for their summer flights on that day.
In 2018, Frankfurt Airport served a total of over 69.5 million passengers, and handled 2.21 million metric tons of cargo. Frankfurt Airport is the main European hub of Star Alliance's global network. Fraport AG, the airport's authority, is also responsible for another 29 airports worldwide, including Lima in Peru, Burga and Varna in Bulgaria, and airports in Brazil and Greece.
Frankfurt Airport is an airport of superlatives in every respect. It employs the highest number of people in any single location within Germany – more than 81,000 people work across 450 companies and organizations based there.
Historically, Frankfurt is significant with regards to World War Two. In the 1940's it was Germany's second-largest airport and hugely important to the ruling party of the day. Forced labour was used to expand the airport rapidly for the war effort. A second runway was built, when the main one was damaged from over-usage. After the war, Lufthansa re-established flights from Frankfurt Airport in 1955. In 1972, the existing Terminal 1 was opened and Frankfurt am Main gained its status as a major international hub. In 1990, construction began for Terminal 2, which was completed in 1994.
Frankfurt Airport opened a new runway in 2011, its fourth. A third terminal is already being built, scheduled for total completion in 2023. Designed to be built in three phases, the airport's first phase is nearing completion, allowing Fraport, the airport's operators, to open one part of the new terminal by 2021. It is envisaged that Terminal 3's new Gate G complex will allow up to 5 million passengers access that year. When Terminal 3 is completed, it will have a capacity of 25 million passengers. Passenger numbers have increased, year-on-year, by 5% and for the first few years Terminal 3 is expected to see at least 21 million passengers annually.
The new passenger Terminal 3 is being built on the southern side of Frankfurt Airport. The terminal will have a retail area of more than 6,000 square meters, a new baggage transportation system and reclaim hall, and an Arrivals and Departures area.
Frankfurt Airport currently consists of two terminals, both featuring every facility a person would desire and more. Throughout the two terminals there are restaurants, fast-food outlets and 24-hour snack bars. The outdoor Beer Garden in Terminal 1, Level 3, is very popular, as is the rooftop beer garden in the summer. Terminal 1 offers passengers a shopping mall, pay-for showers, baby changing facilities and hair salons.
There are several public transport options and a wide range of companies offering car rental at Frankfurt Airport to get passengers to their final destination.
A unique feature of the airport is the Forum, which is designed to inform the public of the history. 10 comfortable 'Bubble' chairs sway gently over the airport's floor map! Enjoy the Galleries in both terminals or spend a little quiet time in Terminal 1's chapel or one of the three prayer rooms in Terminal 2. A casino is available for adult enjoyment and for the children there are many free play areas. Children will also enjoy the Visitor's Terrace with miniature aircraft and a good view of the airplanes. To get onto the Visitor's Terrace, visitors must pay an admission fee. The airport is open from 05.00 in the morning to 23.00 hours at night. There are no night flights from or to Frankfurt Airport.
With expansion Frankfurt Airport will serve over 80 million passengers per year and offer a large number of destinations, including:
| | | |
| --- | --- | --- |
| Airline | Destination | Time |
| Lufthansa | Dubai Int (DXB) | 6.0 Hours |
| Lufthansa | Los Angeles, USA (LAX) | 11h 30mn |
| Lufthansa | Sao Paulo, Brazil (GRU) | 11h 45mn |
| Cathay Pacific Airways | Hong Kong (HKG) | 10h 55mn |
| Lufthansa | Johannesburg, South Africa (JNB) | 10h 10mn |
| Air China | Beijing, China (JNB) | 9h 25mn |
Within the airport, many of the airlines offer business lounges for their club members, for example Air Canada, Air France, Cathay Pacific, Emirates, KLM and Lufthansa. With a valid 1st class long-distance train ticket it is also possible to get access to the DB Lounge, open from 06.00 to 22.00 every day, between platforms 6 and 7 at the long-distance train station of Frankfurt Airport.
Frankfurt Airport Centre (FAC1) offers passengers a Communication Centre with rental phones and internet access, and a Conference Centre for meetings and renting of office equipment. The FAC1 area is accessed from Terminal 1 via an enclosed pedestrian walkway.
There is also a Lounge at Terminal 2, level 3, after the security check-in near gate E9. Here passengers can gain access for a fee of 30.00 Euros for up to 3 hours. Children under the age of 6 go free.
Arrivals, Departures and Airlines at Fankfurt Airport
Hotels near Fankfurt Airport
There are a number of hotels to suit all budgets and requirements at or near Fankfurt Airport.
Parking at Fankfurt Airport
See options for parking services at Fankfurt Airport.
Additional Services and Amenities at Fankfurt Airport
At Fankfurt Airport you will find the usual array of bars and restaurants, airport lounges and shops.
Things to do in Fankfurt
There are a number of activities to suit all ages and interests in the region - see a selection of tourist activities in Fankfurt, Germany.
Services at Frankfurt Airport
Useful Information about Frankfurt Airport